Omar Gandhi Architect has recently completed work on White Rock House, a stunning retreat nestled atop a rocky incline overlooking the north bank of the Gaspereau River Valley. Situated in the heart of the Gaspereau Valley, this residence encapsulates the rich history and cultural significance of the region while providing a unique retreat experience for those seeking solace and connection with nature.
The location is steeped in history, being the unceded territory of the Mi'kmaq indigenous community and holding profound roots for the Acadian community, who named the river after the gaspereau fish.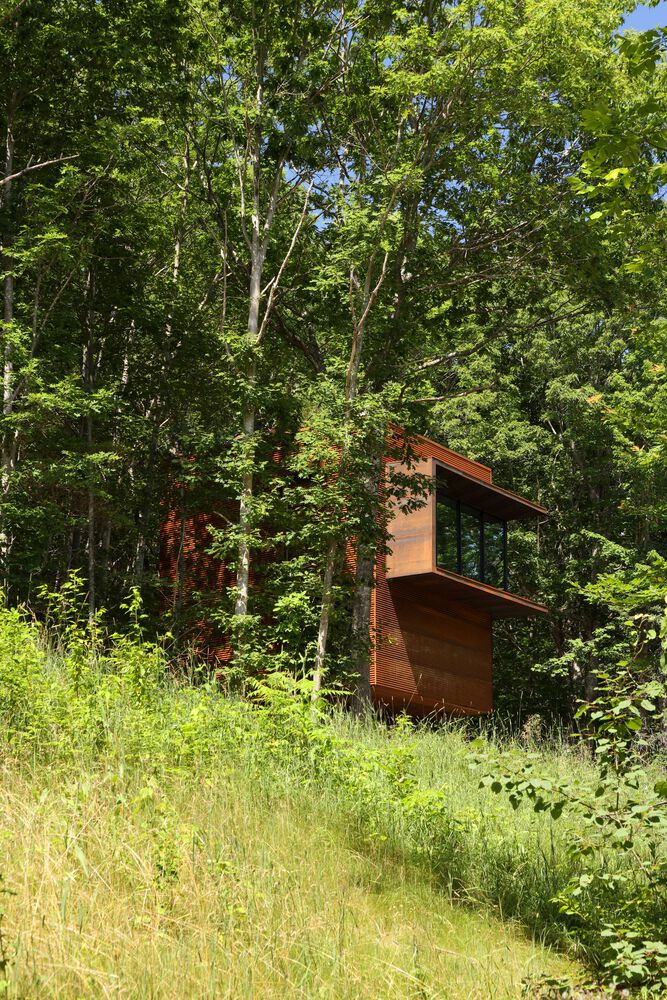 White Rock House, unlike traditional cottages, is a meticulously designed retreat aimed at fostering improved mental well-being. Visitors embark on an enchanting sensory journey, navigating a steep uphill driveway and a tight hairpin turn that leads to a gravel path accessible only by foot. This intentional approach encourages a slower, more immersive connection with the surrounding nature.
The architectural design pays homage to traditional hunting cabins and duck blinds, featuring a large corten steel volume resting atop slender legs. Inspired by the landscape, weathered steel extends beyond the pure corten volume, creating a striking contrast between the austere exterior and the warm, inviting interiors.
Rainwater is thoughtfully captured and stored for irrigation, while the existing trees provide natural shade. The architecture harmoniously blends with the woodland environment, leaving a light footprint on the land.
Upon entering White Rock, visitors are greeted by an intimate, dimly lit space on the first floor. Smoked oak interiors, raw steel shelving, and industrial light fixtures create a soothing atmosphere, complemented by antique linens and hand-dyed fabrics. Large picture windows blur the lines between indoors and outdoors, offering glimpses of the enchanting forest surroundings.
Ascending the dimly lit stairwell leads to the expansive and bright second floor, featuring a cantilevered corten steel hoop embracing a massive window with breathtaking views of the Gaspereau River Valley. The space is adorned with timeless furniture pieces, a wood-burning fireplace, and a sleek kitchen cleverly concealed behind stainless steel shelves.
Central to the living and dining space is a collaboration between a white oak dining table by Mjolk and chairs and benches designed by Nick Mazerolle and Hannah Newton, infusing warmth and craftsmanship. An eye-catching chandelier, created in collaboration with Concord Lighting, adds a focal point, while the juxtaposition of contemporary and antique furniture alongside clean stainless and raw steel accents adds intrigue and joy.
The rooftop, accessed through a corten steel roof hatch, offers a secluded haven amongst Japanese maple trees, providing panoramic views of the Gaspereau Valley's lush tree canopy. White Rock stands as a tribute to the harmony between architecture and nature, inviting visitors to disconnect, find solace in nature, and experience a profound sense of connection with the environment.
For those seeking a retreat like no other, White Rock offers an opportunity to immerse themselves in nature's magic, embrace rawness, and engage in reflection and meditation amidst the lush woods of Gaspereau Valley.
Project information
Architects: Omar Gandhi Architect – omargandhi.com
Area: 1500 ft²
Year: 2023
Photographs: Ema Peter
Country: Canada