SUMMARY Architecture has recently completed works on the Grandstand Building, a training complex of the Municipal Stadium in Aveiro, Portugal.
The building, located in the immediate surroundings of the Aveiro Municipal Stadium, will serve as a support structure for football practice and official games for the junior teams. The project includes four football fields, a support facility with dressing rooms, public stands, parking facilities, and other amenities.
The public stands in front of the playing grounds on either side, with the remaining programmatic functions placed beneath, and all functions were consolidated into a single building. Public circulation is improved, building materials are used less often, construction time is cut down, and all services and the two public grandstands may be combined into one building.
The building's construction and overall appearance are closely related. The building's materiality, notably the use of concrete in its natural color, is both an attractive and economical solution because it eliminates the need for extra finishings. To make a significant impact in the circulation spaces and to symbolically designate all public access places, color is employed sparingly yet purposefully.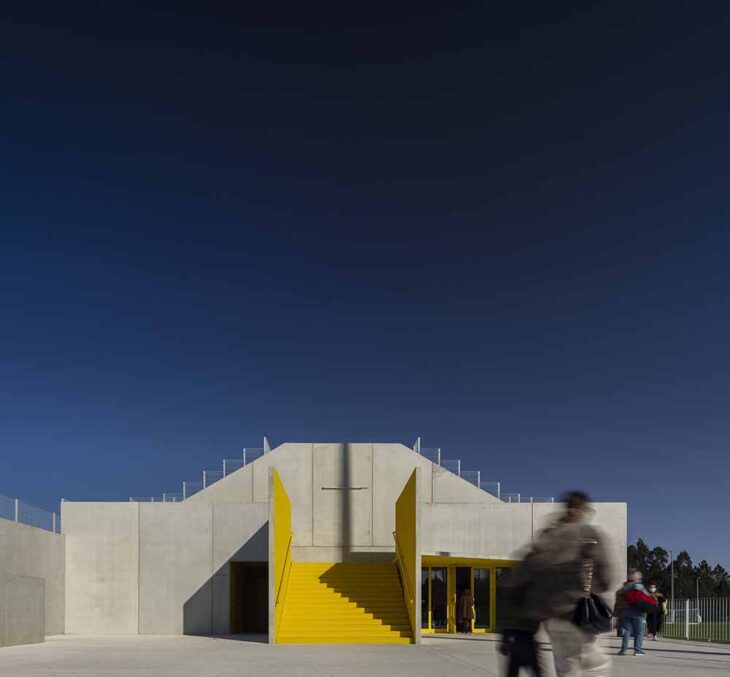 The architects added a social layer on top of the structure by positioning the public stand that faces both pitches on opposing sides.
The layout of the building and the distribution of the programs create a number of scenarios that allow for the development of public life and a stronger sense of community. The sections designated for the general public are identified by the installation of bars close to the entry and the signalization of all public features wrapped in the same yellow color.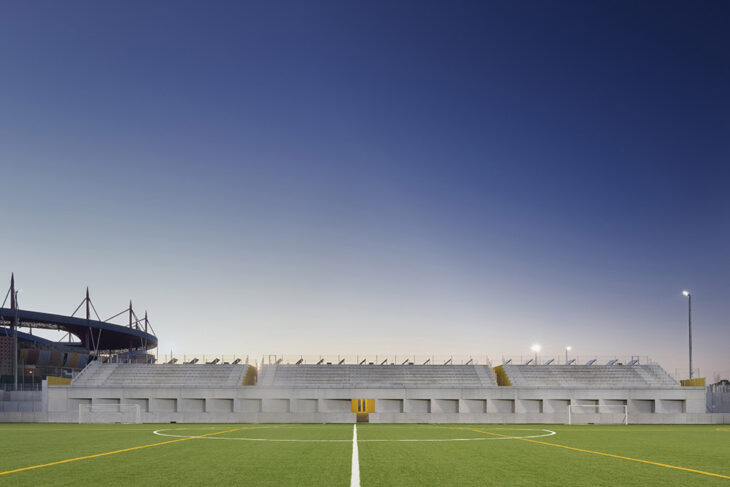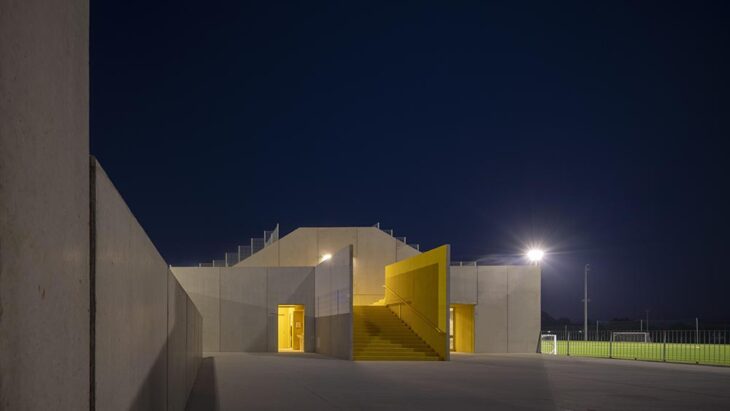 This building's construction is entirely based on precast concrete components. The monitoring of the component quality levels as they are being manufactured makes the building process more effective. This method offers significant time savings, which is important for building a public structure.
Utilizing bioclimatic resources, such as openings that promote cross-ventilation, active measures, like solar panels, and other energy-efficiency strategies will help to significantly reduce the building's operating costs, which is important over the long term for a building used for public purposes.
Project Name: Grandstand Building – Training Complex of the Municipal Stadium in Aveiro
Office: SUMMARY – www.summary.pt
Office Location: Aveiro, Portugal
–
Completion Year: 2022
Gross Built Area: 1500 m2 / sqm
Project Location: Aveiro, Portugal
Programme: Sportive facilities
–
Leading Architect: Samuel Gonçalves
Architecture Team: Adina Staicu, Inês Vieira Rodrigues, João Meira, Sara Perfetti
Photo Credits: © Fernando Guerra_FG+SG – ultimasreportagens.com