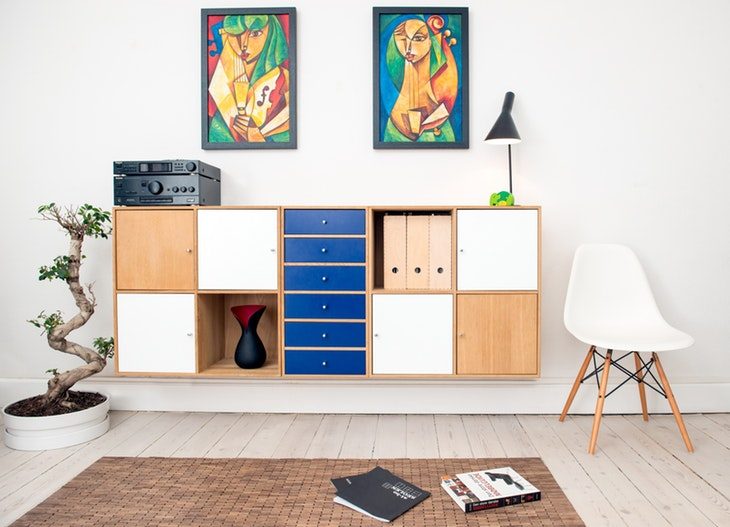 Interior design trends are always on the move, and in 2019 we saw a lot of bold styles. In particular, homes used sculptural furniture as accent pieces, items that announced their presence and drew attention to themselves.
Looking to future trends, though, we expect to see a step back from these types of statement pieces. Instead, look for splashes of color scattered throughout homes. Smart color use can be as varied as patterned wallpaper or neutral contrast pieces.
Here are some ideas to brighten up your home.
Read more after the jump:
Joyful Jewel Tones
Jewel tones trend every few years, and they're set to make a comeback in 2020. According to Cindy McCord of Cindy McCord designs, jewel tones will overtake earth tones in 2020 after several years during which neutrals ruled mood boards. These bright, but warm shades complement other modern trends, and with the right textural accents, these colors look highly luxurious.
Keep Up The Contrast
Color may be everywhere in 2020, but for colorful pieces to make a splash, they need to be set against contrast pieces. And while some seem to think brightly colored furniture will be big next year, most designers suggest that high-contrast décor will reign supreme. To that end, we're likely to see a lot of luxurious neutral. Ben Soleimani's couches and chairs in burlap, chalk, and bone or lead-colored velvet are just the sort of foundational pieces that will support brighter colored pieces. Some design experts are calling these "amped-up neutrals," tones that go beyond plain white, grey, or brown.
Go Big With Wallpaper
Wallpaper may seem old-fashioned, but this decorating tool has come back in a big way in recent years. That's because companies have redesigned the material; goodbye sticky wallpaper paste, hello removable wallpaper designed for apartments. And much like the wallpaper trends of the past, in 2020, popular wallpaper styles will embrace elaborate patterns and bright colors. Expect to see a lot of geometric shapes, floral designs, and even mural-style accent walls using easy-to-apply wallpapers.

Warm Up With Rugs
Hardwood floors will never go out of style, but cozy rugs will warm things up in 2020. Don't be surprised if rugs look a little less bland, though, and embrace the same kind of color and pattern trends dominating wallpaper and other household textiles. Rug designers are playing with new styles and shapes and stepping back from the bland floor covers of years past. Bright Moroccan styles will be popular, as will hand-woven designs and natural fibers. And don't be afraid to layer them for added depth and texture. The right combination of rugs can bring a room together.
Forget The Trends
Perhaps more than any other trend, perhaps the most dominant design style we'll see in 2020 is a disregard for what's popular. Stylists and homeowners alike are tired of stepping into homes that all look exactly the same. Instead, they're committed to channeling their own preferences – that may actually be why colors and patterns are coming back with such intensity. People want to display the designs they love, and in 2020 they're ready to go big at home.