PLH Arkitekter designed their own working spaces in a former factory building in the city of Copenhagen. For more images continue after the jump:
From the Architects:
The transformation and interpretation of a former factory building in the city of Copenhagen has created a workspace based on new synergies from inside to outside. The vast hall, which is proportionally long and narrow, was originally a part of the Lauritz Knudsens Factories, and used to manufacture electrical parts in the 1920's.
The conversion project involved refurbishment of the existing building, adding a mezzanine along one side, as a huge 'piece of furniture' providing 40 extra workspaces upstairs and diverse 'laboratory spaces' below for meeting, model-making, brainstorming and product research.
The interior is defined by its spaciousness, with a ceiling height of 6.5 meters, and the tall, narrow industrial windows. The verticality of the space is underlined through the rhythmic repetition of columns and windows, and the inserted mezzanine level creates a dynamic effect, and exciting new vantage points.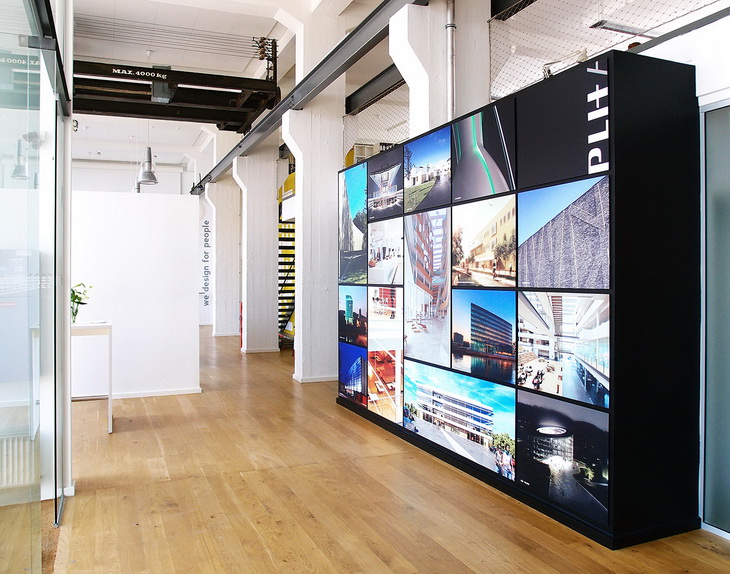 To improve daylight and indoor climate, window openings were reverted back to their original full-height and fitted with an extra insulating glass panel and sun screening. To further reduce heat gain, insulation has been added to the inner facades making the building comply with current codes, and the ground floor slab has been insulated with a bed of sand before constructing a new timber floor above.
The original crane structures and elements such as steel trusses and beams are exposed as a dramatic reminiscence of the buildings industrial past. The cranes are now parked in each end of the studio where they create a 'roof' that defines the café at one end and team space at the other.
New open steel staircases and wire mesh balustrades provide a robust yet transparent connection between the two levels of workspace. In combination with the accent-coloured walls, warm oak flooring and super graphics, the environment has an appealing balance between the rough and delicate, the old and new.
The design brief and concept has evolved through extensive workshops with the entire organisation. The vision for a 'visibly creative space, reflecting the way we work' has been realised through a diverse variety of work settings and collaboration areas. The transformation dramatically showcases the architectural practice to staff and visitors alike, and strengthens the firm's brand – we design for people.
The renovation project, inspired by the precinct, has now become a catalyst for regeneration of the entire former industrial area.
Project: PLH Arkitekter's New Offices
Designed by PLH Arkitekter
Size: 1000 m2
Location: Copenhagen, Denmark
Website: www.plh.dk