Architecture studio ARGDL has recently completed work on this stunning private residencce in Tapalpa, Mexico. Situated in close proximity to the charming town of Los Espinos, this architectural gem finds itself nestled within a picturesque setting. The project is envisioned as a contemporary reinterpretation of vernacular architecture, showcasing a harmonious blend of stone and wood elements.
The architectural composition is characterized by the presence of two double-height volumes, elegantly juxtaposed and connected by a transparent glass corridor.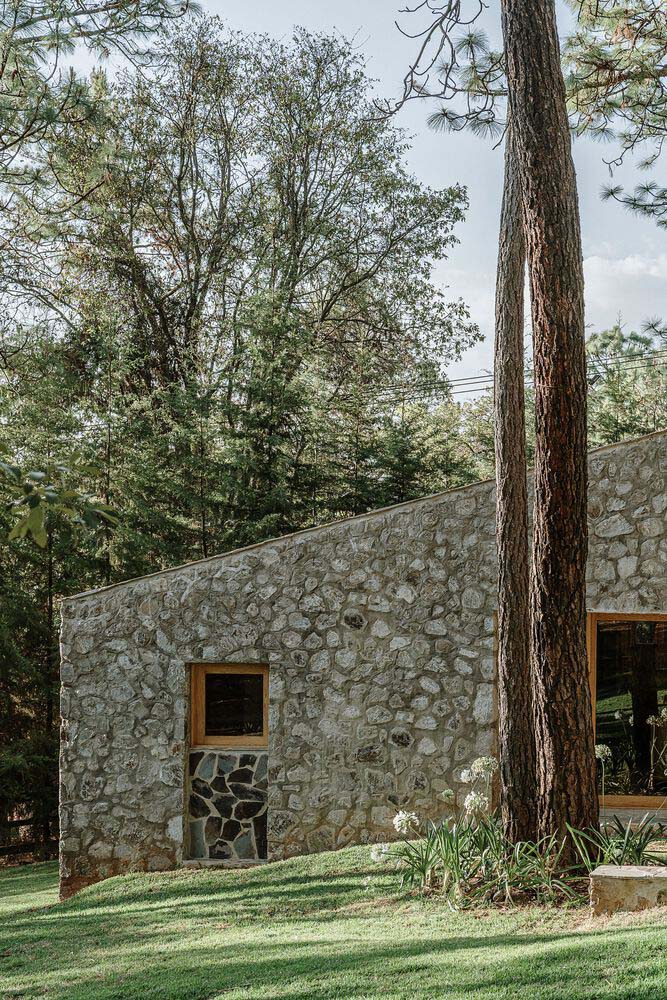 The day ship's spatial arrangement showcases a well-thought-out design with a mezzanine level that houses a tranquil rest space. On the ground floor, the social areas are seamlessly interconnected, creating a harmonious axis of coexistence. This axis encompasses a modern kitchen, a spacious dining area, and a comfortable living room. Additionally, discreetly tucked away in a more private section, you will find the bathroom and service modules, ensuring convenience and functionality.
In the design, the night ship features a thoughtfully integrated TV room that seamlessly connects with a charming patio, creating a visually cohesive space where soft, gentle lighting gracefully illuminates the interior. Furthermore, the space encompasses a meticulously designed bedroom and a lavishly appointed full bathroom.
Located on the second level, the master bedroom has been thoughtfully designed to create an intimate sanctuary within the house, while still ensuring the privacy of its occupants. This carefully crafted space includes a personal bathroom, further enhancing the sense of exclusivity and comfort.
The materiality of this architectural design is composed of three fundamental elements. Firstly, local stone is utilized to create the primary volumes, establishing a strong and grounded presence. Secondly, regional pine is incorporated in the construction of roofs and frames, adding a sense of regional identity and warmth. Lastly, glass is employed to achieve internal transparency, seamlessly connecting the interior spaces with the surrounding landscape. Through this design approach, the primary goal of minimizing the ecological footprint and seamlessly integrating the structure with its natural surroundings has been successfully accomplished.
Project information
Architects: ARGDL – www.argdl.com
Area: 265 m²
Year: 2023
Photographs:Juan Manuel McGrath
Lead Architect: Saúl Cruz
Design Team: Iván Ibarra, Christopher Vicente, Eduardo Nuño
Engineering: Álvaro Vallejo
Landscape: ARGDL
Collaborators: Urbanica
City: Tapalpa
Country: Mexico