Architecture studio Taller David Dana has recently completed its latest project in Mexico – Casa Madre. Comprising five staggered volumes nestled on a sloping terrain, this single-family residence unfolds across five levels, each meticulously designed to cater to the specific needs and privacy of its inhabitants.
From the very inception of the project, the architects were confronted with unique challenges that ultimately shaped the vision for Casa Madre. The elevated location of the plot, the lush vegetation surrounding it, and access via two roads all presented intriguing opportunities to experiment with the building's form and façade. The result is a mesmerizing structure that appears to emerge from the treetops while subtly receding from street-level perspectives.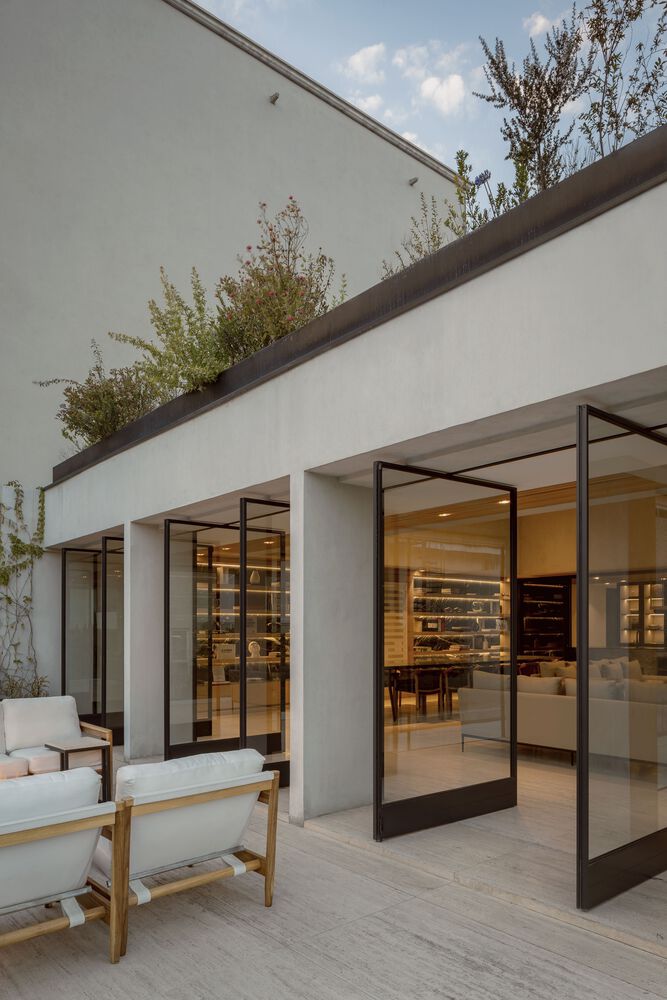 The journey begins on the uppermost level, serving as the main entrance, and gradually descends to the ground floor, used sporadically. The heart of the residence resides on the entrance level, featuring public areas that seamlessly connect with the outdoors. Generous openings, communal spaces such as the terrace and green roof, and an abundant use of concrete create an interior-exterior connection that encourages residents to interact with the natural surroundings.
Concrete plays a pivotal role in the project, both structurally and ornamentally, offering a neutral canvas that comes to life with an interior color palette and carefully curated vegetation. The interior design focuses on creating harmonious tones and warm atmospheres, achieved through the prominent use of wood, natural stones, and thoughtful integration of furniture and art. This approach aligns with Gestalt psychology principles in design, ensuring a balanced and inviting environment.
As one moves through the residence's levels, visual focal points and framing techniques guide the eye, enhancing the sense of depth. These elements draw attention to architectural features such as the 'amber brown' marble dado and a collection of artwork, including pieces by acclaimed artist Francisco Toledo and other notable contributors.
The exterior spaces were also thoughtfully considered, with landscape design that invites residents and visitors on a journey through the lush vegetation. The lowermost point of the terrain reveals complementary areas, including accommodation spaces for guests, completing the holistic experience of Casa Madre.
In Casa Madre, architecture and nature coalesce in perfect harmony, creating a dwelling that is not only a family residence but also a work of art. This concrete sculpture amongst the trees stands as a testament to the power of architecture to shape and elevate our connection with the natural world.
Project information
Architects: Taller David Dana – tallerdaviddana.com
Area: 1817 m²
Year: 2023
Photographs: César Belio, César Béjar
Manufacturers: AutoDesk, Adobe Creative Cloud, Cemex, Grupo Arca, Trimble Navigation
Lead Architect: David Dana Cohen
Landscape: Entorno Taller de Paisajes
City: Ciudad de México
Country: Mexico