When you think of a rocking chair you are not really thinking of modern furniture, however the Harper Rocking Chair design by Noe Duchaufour-Lawrance for Bernhardt Design shakes the impression in a blink of an eye. The Harper rocking chair was designed back in 2013 and is created in solid Cherry Wood, with Maple spindles attached.
"In my mind the rocking chair was invented in America, although I'm sure that is not true in fact. For me, designing a new rocking chair is the ideal way to celebrate the heritage, imagination, and craftsmanship of Bernhardt Design. The Adirondack chair served as early inspiration, but my focus soon turned to the Windsor rocking chair, whose complexity and refinement are remarkable. I wanted to take the essential elements of the Windsor rocker and put them together in a new and different way. The exterior of the Harper chair is very much like a birds nest with a structure composed of twigs. The interior is a cocoon, in this instance a suspended cocoon. The seat and back appear to be floating inside the nest. I wanted to bring warmth and texture to the cocoon, rather than use the typical wood seat found in a Windsor chair. To achieve this, I looked at leather saddles as a point of reference. The floating saddle seat brings a level of tailoring and quality to the chair, while still maintaining an important sense of familiarity." – from furniture designer Noe Duchaufour-Lawrance
RELATED: Find More Chairs in our ARCHI Scene Archive
The designer and the team opted to use the very American wood, therefore they went for Cherry and Maple tree. The chair itself is designed as a modern sculpture, thus it is simply different from every perspective. The chair's name is an homage to Anne Harper Bernhardt the founder of Bernhardt Design. Today the chair is available through Bernhardt as well as various other design outlets in price range from $2,800 to $3,000 (minus the shipping expenses).
Discover more of the eye-catching design after the jump: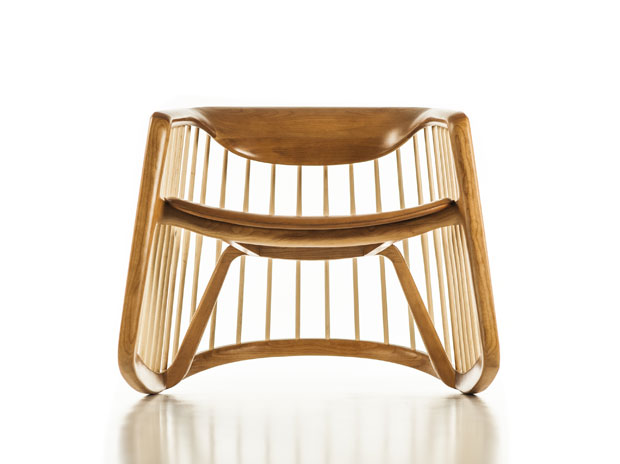 More info at bernhardtdesign.com.