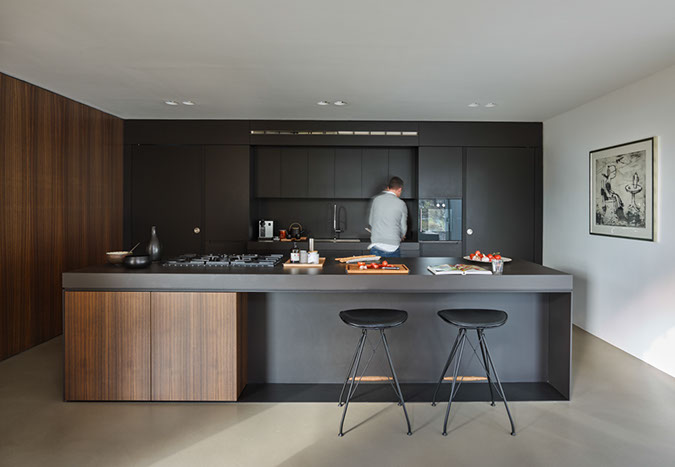 Who wouldn't want to be able to change layouts, furniture pieces or even the house's structure in the blink of an eye at the lowest cost possible? But this is not just something we would wish for the sake of a more stylish home. We have many different reasons, be it for enhancing the utility of our cabinets, having had damages done to them, freeing up our space to gain more storage room or simply switching to better quality kitchen units.
The kitchen can be prone to the highest level of damage: burns, steam, knife cuts, spilt drinks and food. Better quality and custom cabinetry will save the trouble of cleaning them too often or having to take extra care of them. Who doesn't want to feel comfier at their home after all? Needless to say that a visually aesthetic kitchen will uplift our spirit. We spend an hour in the kitchen just for cooking and cleaning purposes. Not to count the time that adds up by crossing it, drinking coffee or having guests over and sitting in the kitchen. If you find yourself in these circumstances, here are some detailed situations just to clear your mind about when, why and how to take action.
More storage
You've all been trying to avoid running out of storage in certain places, be it over cluttered closets, lockers and often kitchen cabinets as well. You've certainly thought of getting rid of certain objects and utensils to avoid this situation. Even the kitchen island can seem more of a burden than a necessity, or you can feel like it's gone out of style and prefer to use the space it takes for storage purposes. This is something that a well-thought-out kitchen cabinet can fix.
When this happens, chances are you will replace all the existing cabinetry with new stylish ones. You might also want to switch only some pieces and keep others. We know good-quality furniture can be quite expensive and fashionable; one might at times be hard to find, especially if you're a picky person. . But luckily many kitchen furniture providers offer a wide range of options that fit all styles and budgets, so a little research can help you find something to fit your needs.
Better looking kitchen units
On average, kitchens need to be renovated every 10-15 years, and this is the amount of time it takes for colour trends to change. . Just think twice if you decide to paint your furniture and have never done it before, as you might end up not liking the result and having to replace them anyway.
Fancying a bigger house and larger rooms might cross your mind from time to time, but not that often you can take action in this regard. What you can do instead is to consider using light colours such as white for your cabinetry and even for the wall painting. And yes, are touch-dry paints that dry in one hour and protective topcoat waxes that you can use to avoid all these unpleasant situations.
Mould free furniture
Aside from water damage, a small leak or frequent humidity exposure can lead to mould outbreaks in kitchen cabinets. Mould may grow unnoticed in these cabinets until it reaches epic proportions. By not opening cabinets too often, there are smaller chances you will notice the mould and, therefore, higher chances that it will grow to colossal proportions.
Mould can be hard to remove once it settles in the wood. More destructively, mould bears an unpleasant smell, and can be harmful to your and your family's health. It can cause allergies, coughing, itchy eyes, and other symptoms if not removed in time. The simplest method to prevent mould allergies is replacing infested units with new ones. When picking the countertops, go for stainless, concrete or steel instead of vinyl and wood ones. Choose solid, well-sealed dinettes and not reclaimed, fake wood ones. If the styles and colours are hard to match, you may have to replace the whole funiture.
Damaged cabinets
Kitchen cabinet finishes start to face wear and tear and decay in 10-15 years, depending on their quality and how much they are used. Poor quality ones can have their joints and adhesives not strong enough to bear all the weight of your dishes and kitchen items and eventually begin to sag. More expensive, sturdy new cabinets stand a chance to outlive the old ones. Another advantage of updating your kitchen is that solid doors that slide easily will increase the kitchen's space and the kitchen's functionality.
Water damage is a considerable risk when it comes to wood furniture that is not metal-based. Water-damaged kitchen cabinets can be the consequence of human-made actions such as carelessly washing the dishes, or it can happen due to unplanned, unsupervised water leaks. A hazardous pipe leak can damage, even more, leading to considerable prejudices and harder work.
Conclusion
Kitchen cabinets directly impact how easy and stress-free you do your chores in the kitchen. Before proceeding with the redecorating process, it is good to get informed about what materials and models to choose according to your lifestyle, needs, preferences and budget. Replacement is frequently one of the most time- and money-consuming aspects of a kitchen makeover, but it doesn't happen often and will eventually be advantageous. In order to avoid spending too much money, consider going for second-hand kitchen furniture and custom-made cabinets. This will also enhance the chances of finding something you'd like more.
Needless to say, the more functional your kitchen, the higher the value of the house. Renovating and updating the kitchen is the first thing you should do if you want to raise the sale price of your house. All of these benefits while enjoying a visually pleasing kitchen, more free space inside the kitchen and inside the cabinets and greater functionality.
Kitchen cabinet replacement is frequently one of the most time- and money-consuming aspects of a kitchen makeover.
All images from Vallès Oriental Residence – courtesy of YLAB Arquitectos – discover the full project.