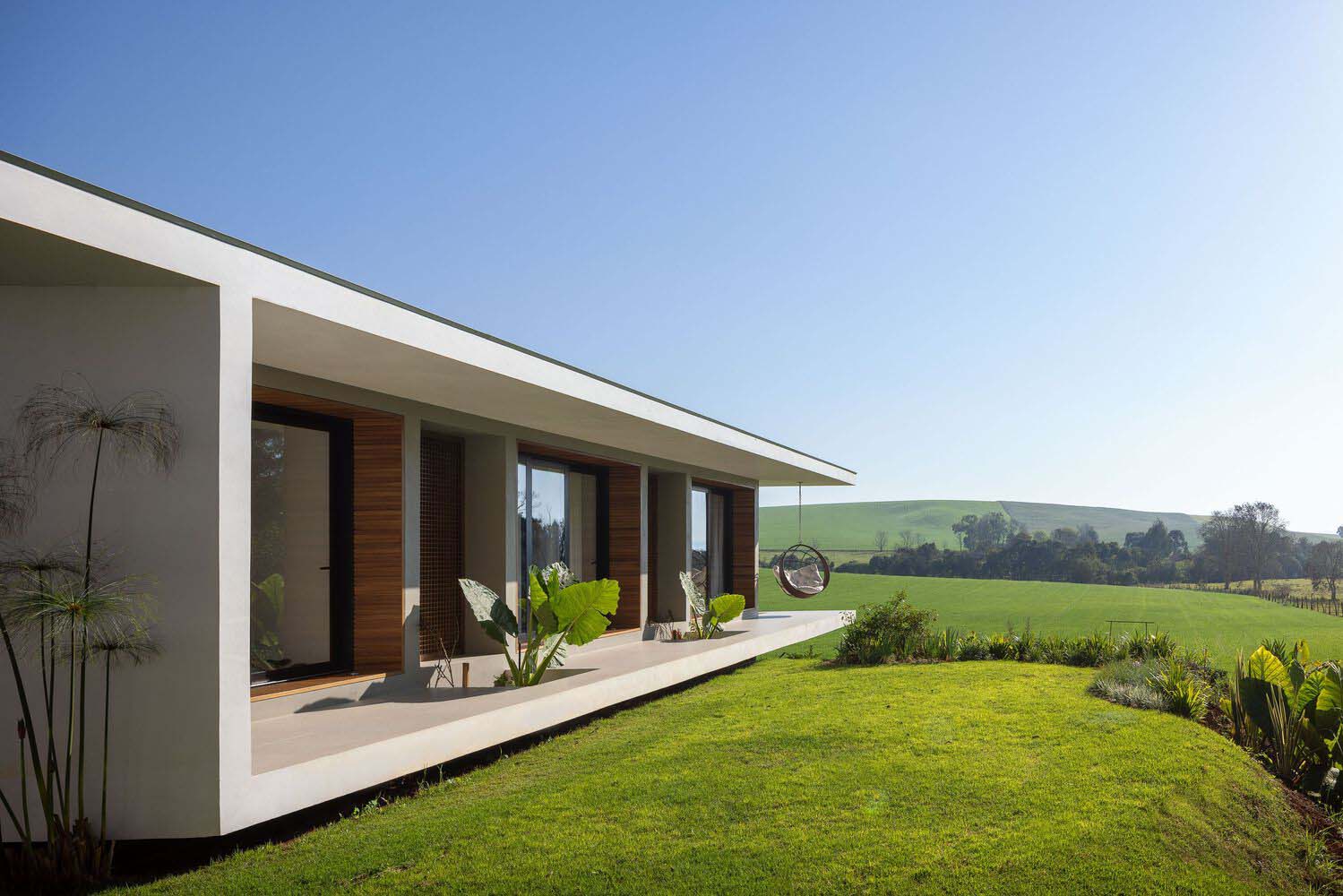 In the heart of the Rio Grande do Sul countryside, VOO® Arquitetura e Engenharia has unveiled their latest project – the Cruzaltense Residence. Nestled amidst lush woodlands and the sprawling family farm, this unique dwelling is a testament to modern design seamlessly integrated with the surrounding natural beauty.
The architects behind the Cruzaltense Residence set out with a clear vision: to provide its inhabitants with a profound sense of freedom and privacy within an expansive, green landscape. The result is nothing short of extraordinary, as the residence seems to effortlessly merge with its surroundings, all without the use of conventional walls or visual barriers.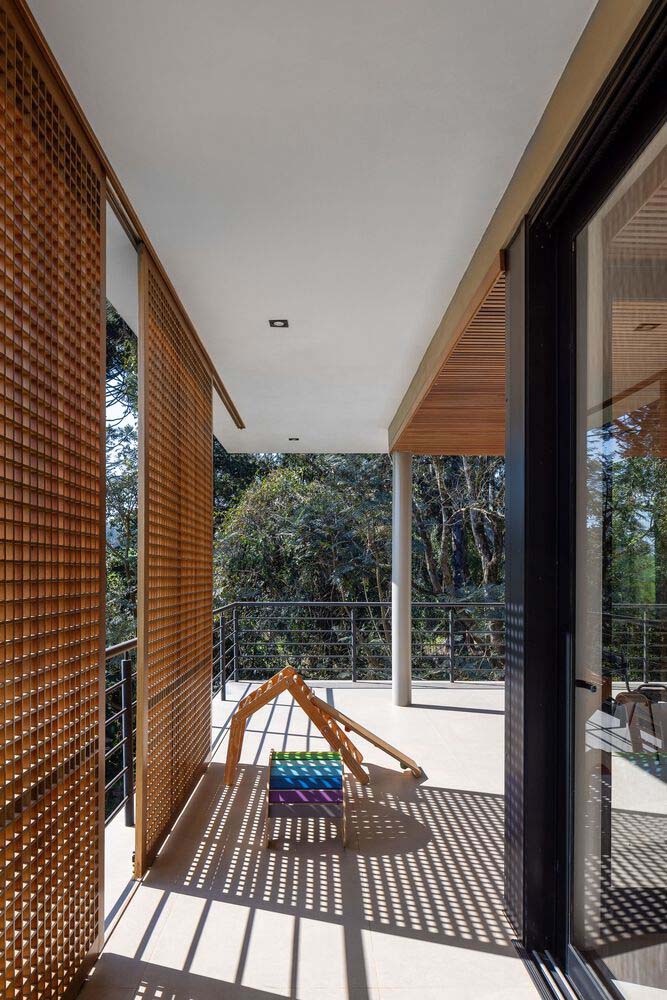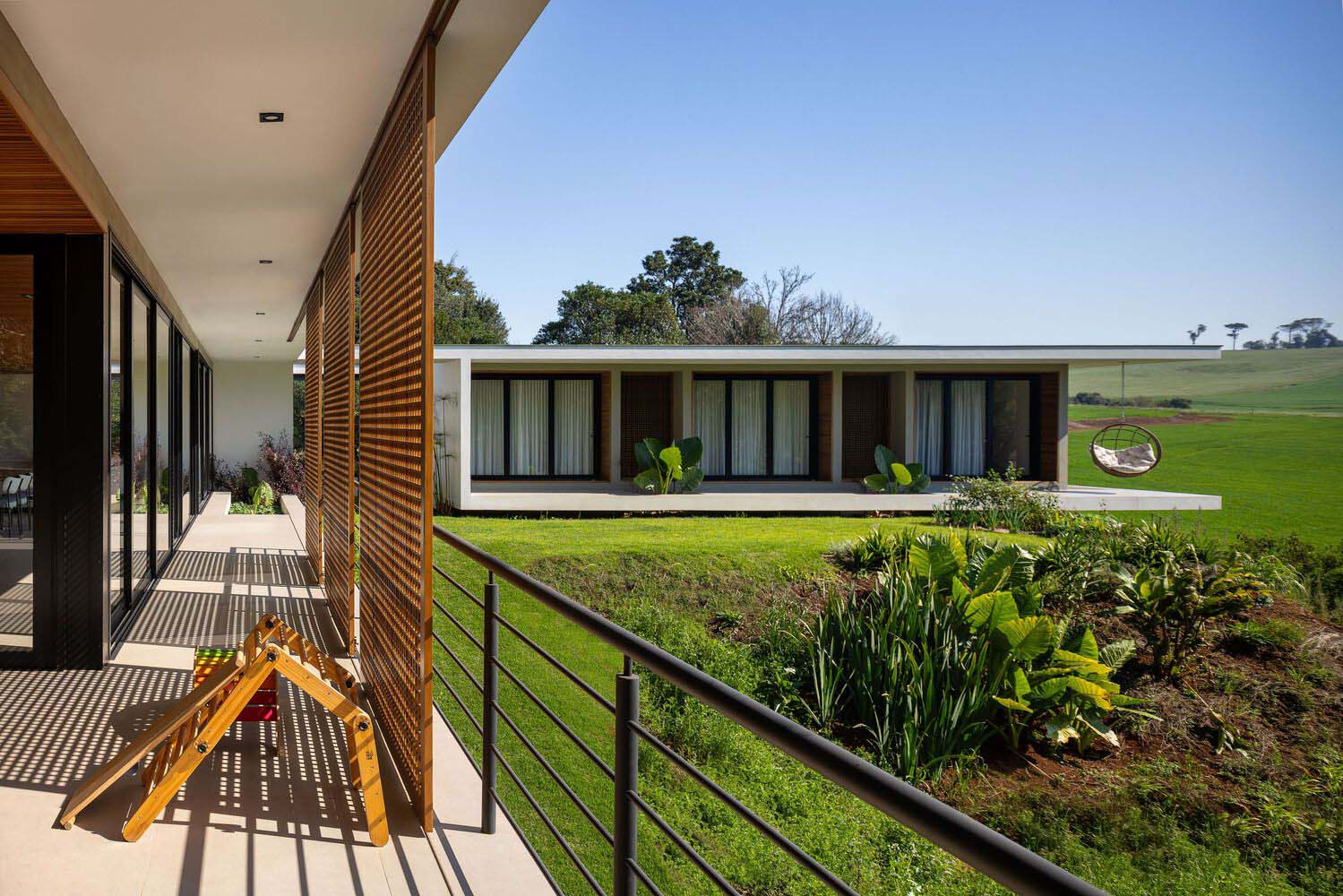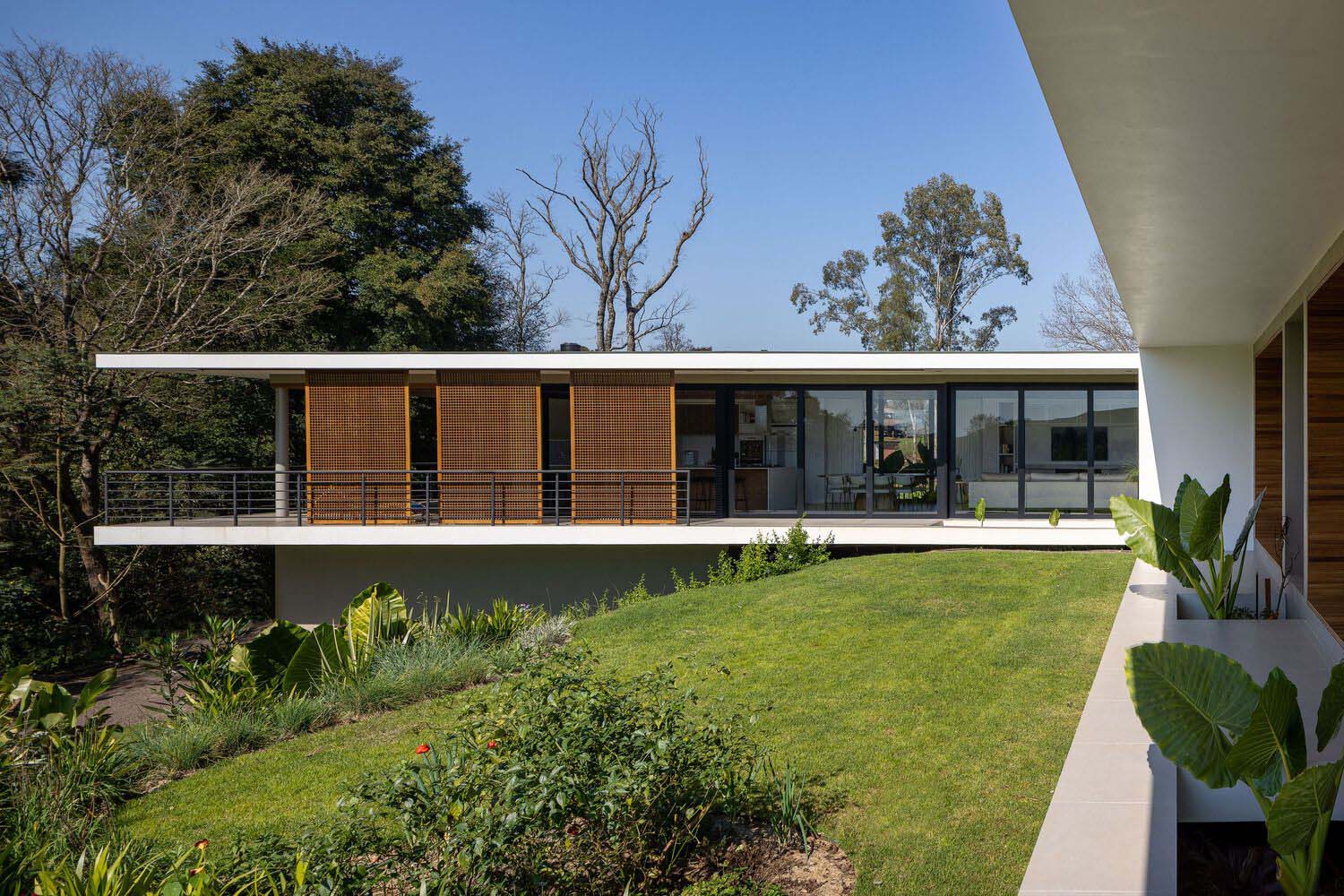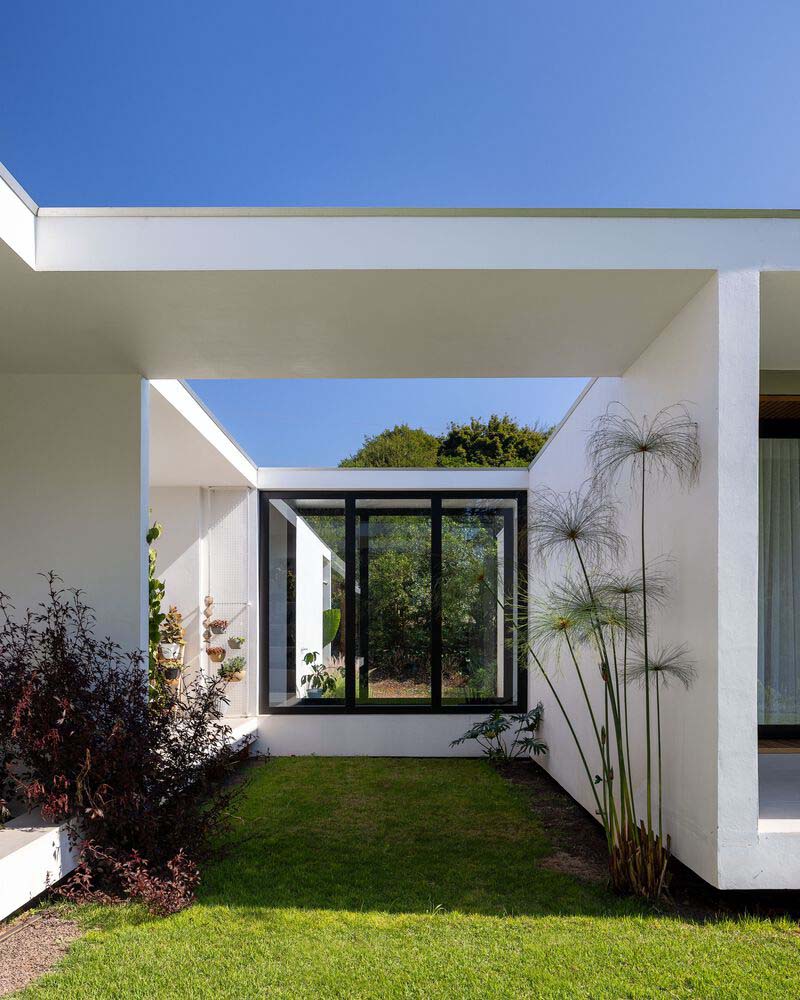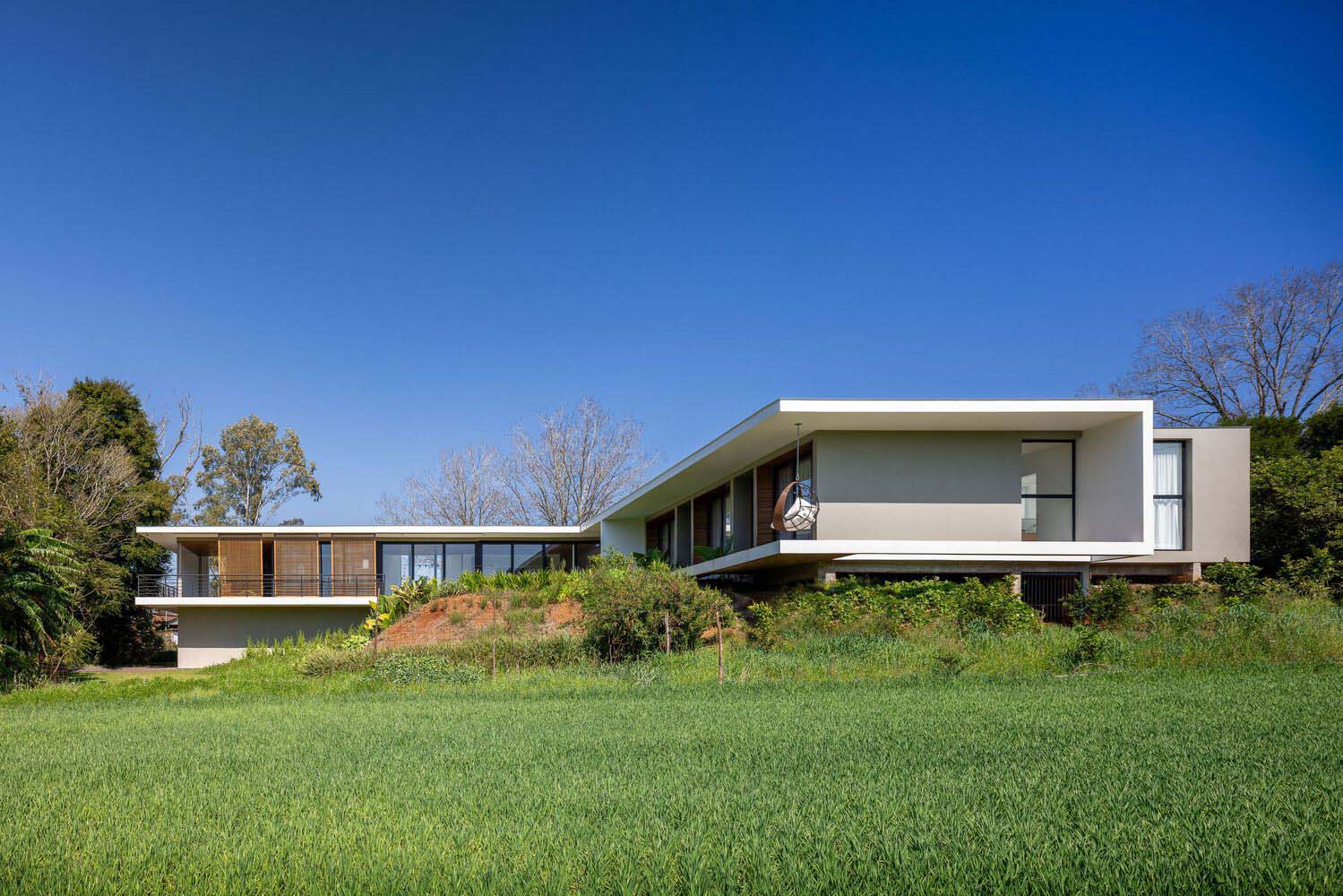 The clever design of the Cruzaltense Residence is defined by its "L" shape, which serves both as an external and internal boundary. This delineation effectively separates the intimate and social areas of the house, offering residents the perfect balance of seclusion and openness.
One of the standout features of this architectural gem is its natural integration with the sloping topography. The house appears to float atop the land, thanks to the ground floor design that prioritizes visual lightness. Every architectural detail, from voids to flaps to openings, is thoughtfully crafted to maximize natural light, ventilation, and stunning vistas while also ensuring privacy within internal spaces.
Approaching the Cruzaltense Residence, one is greeted by a picturesque lake that forms the front façade and entry point to the house. This lake not only reflects the beauty of the residence but, when combined with natural lighting, creates a dynamic interplay of visual experiences.
Upon entering, the expansive social area with its natural wood ceilings exudes warmth and freedom. Sliding panels form the large veranda, strategically aligned with external flaps to shield the interior from the sun's intensity. Void spaces thoughtfully positioned between the social and intimate areas promote privacy and enhance airflow throughout the residence.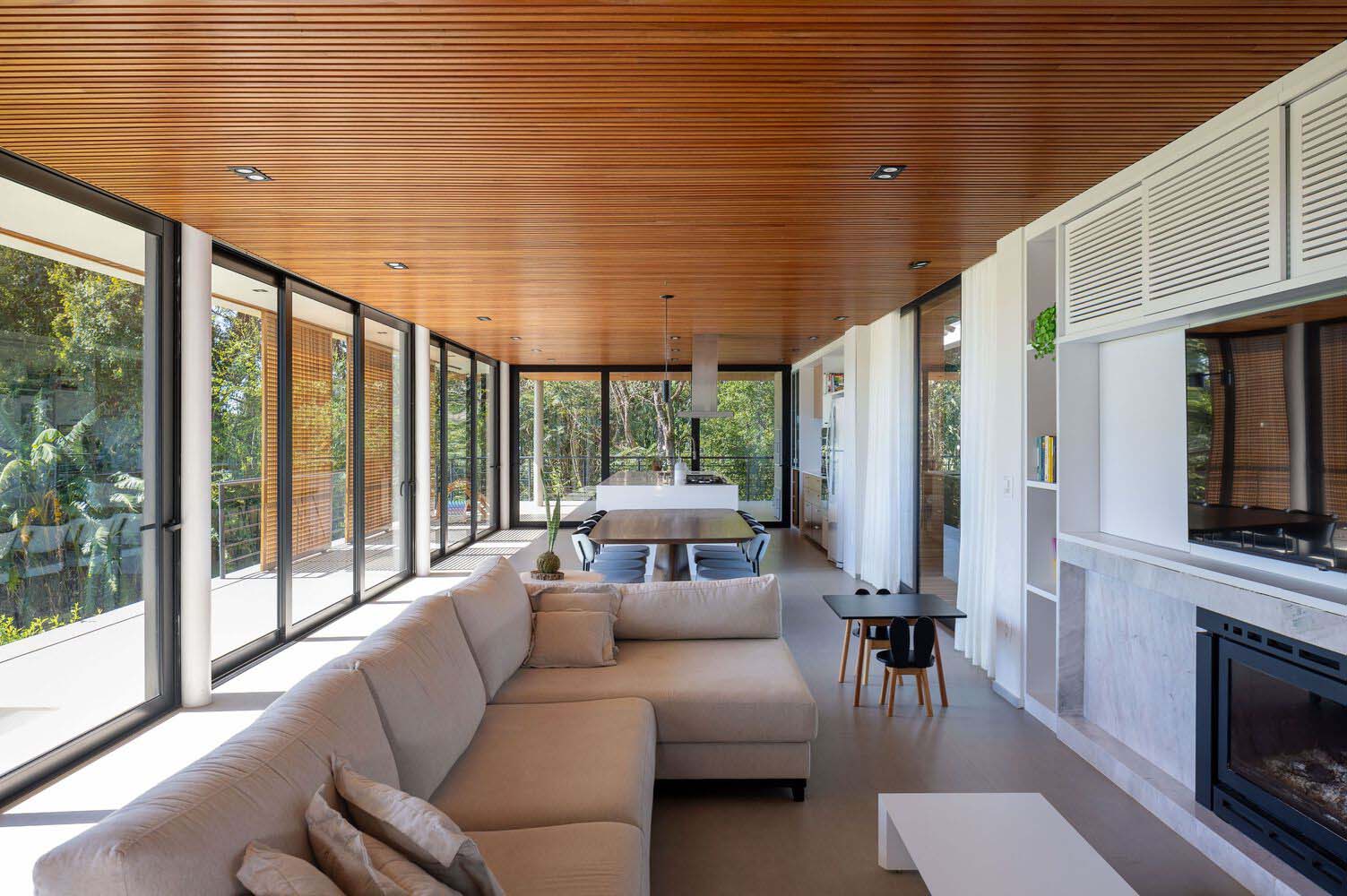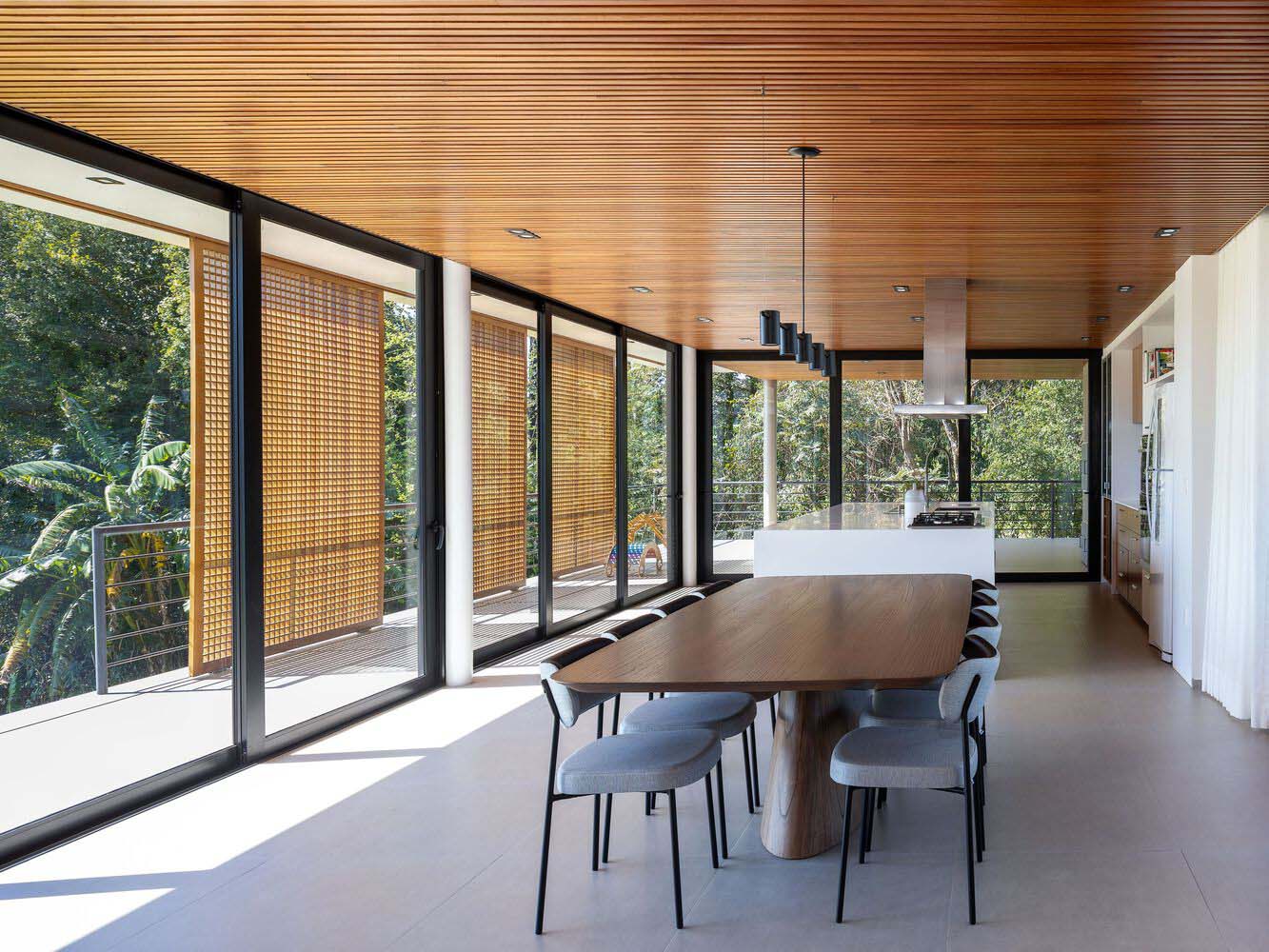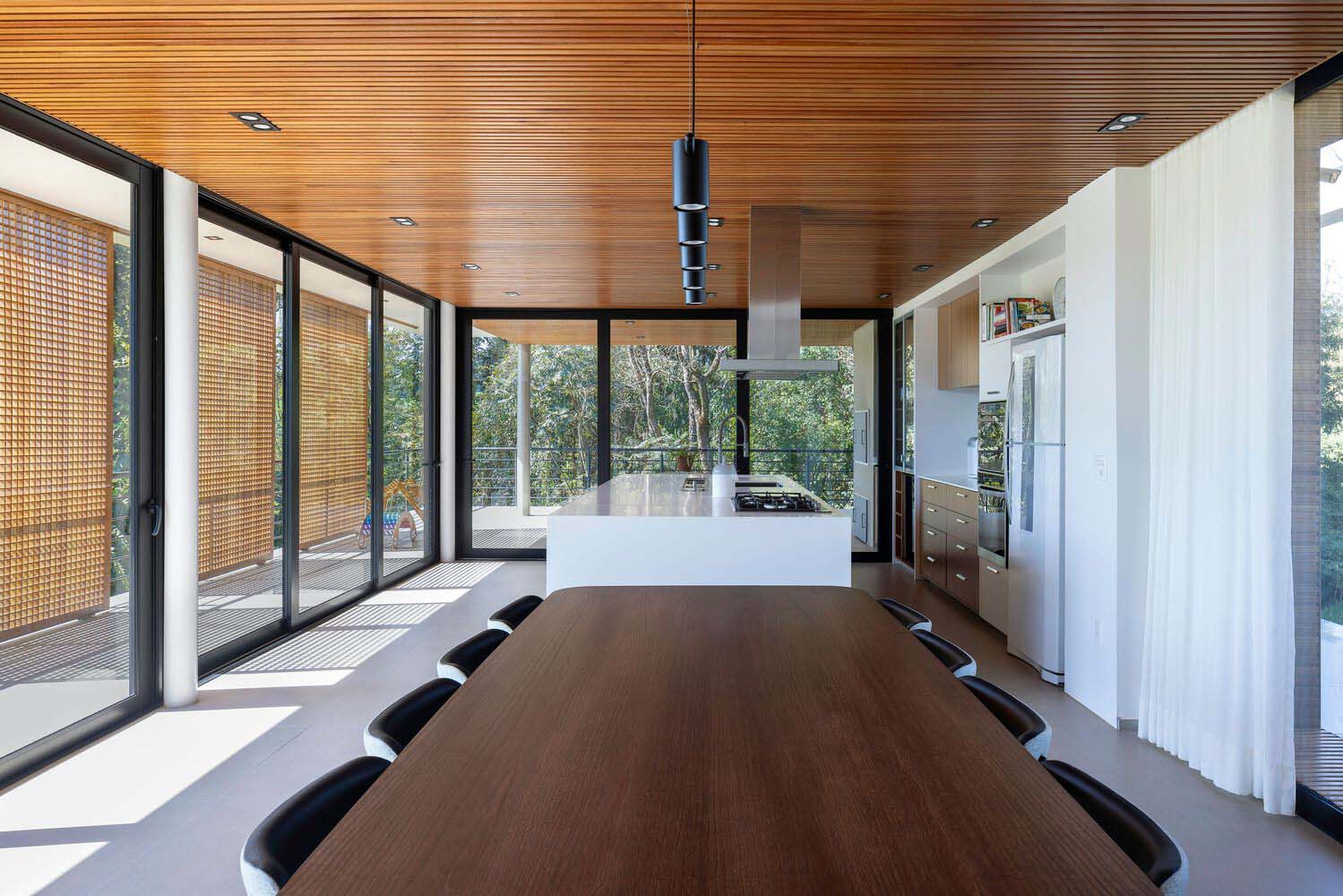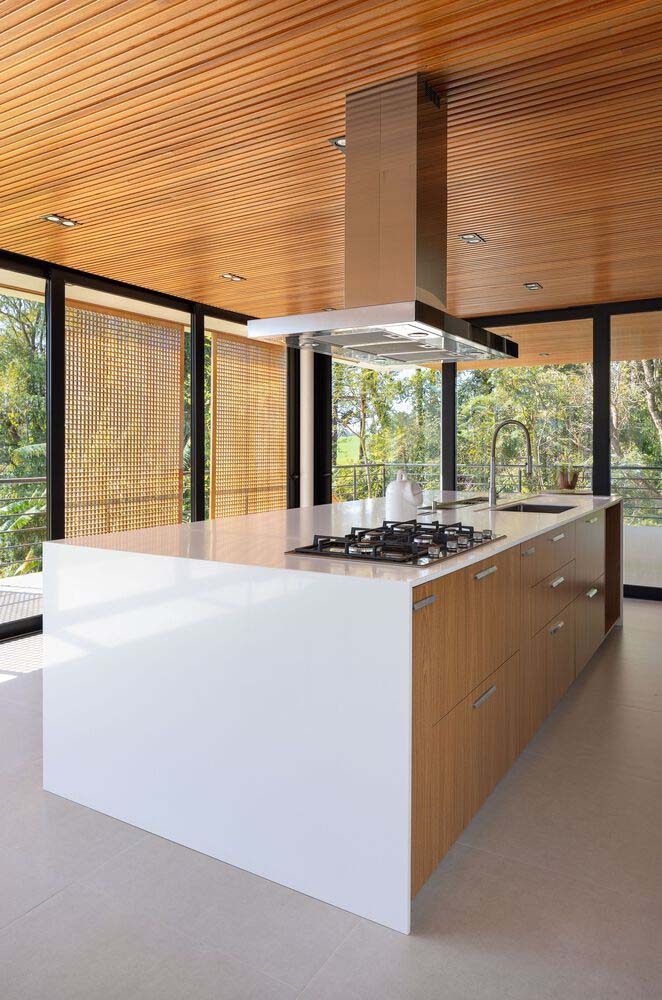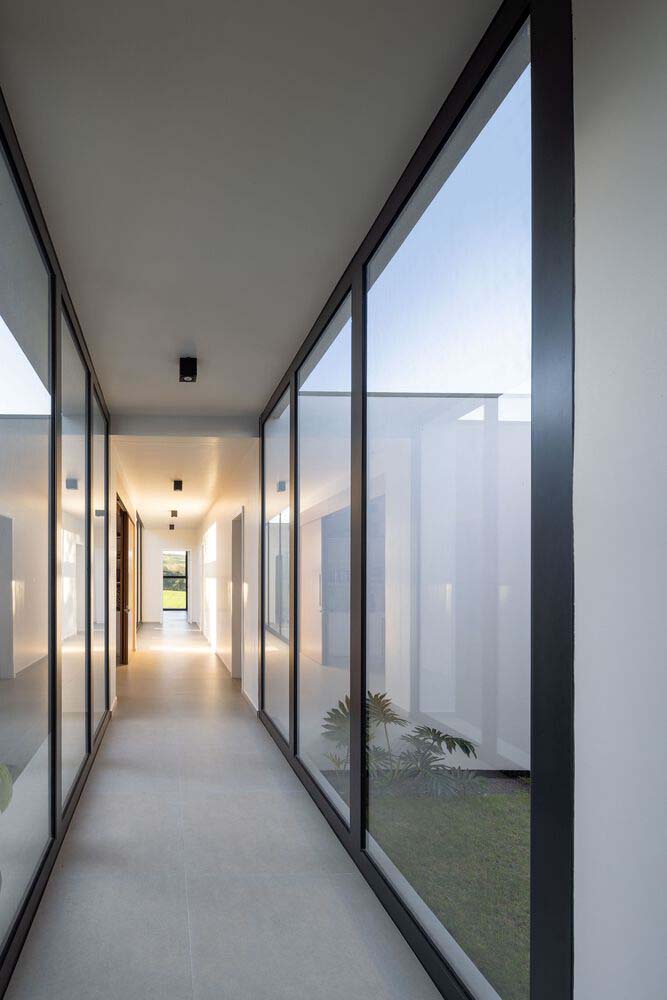 The intimate areas of the home are strategically positioned to face the surrounding greenery, maintaining an optimal balance between the forest and the house for enhanced ventilation and natural light. Each room, including the bathrooms, boasts breathtaking views of the natural surroundings while still preserving the essential privacy of personal spaces.
Natural elements abound in the finishes of the Cruzaltense Residence, reinforcing the connection with nature. Sunlight gracefully penetrates the interiors during the day, creating ever-changing visual experiences alongside these organic elements. The interior design complements the architectural excellence, embracing a contemporary and clean aesthetic that aligns with the house's overarching vision.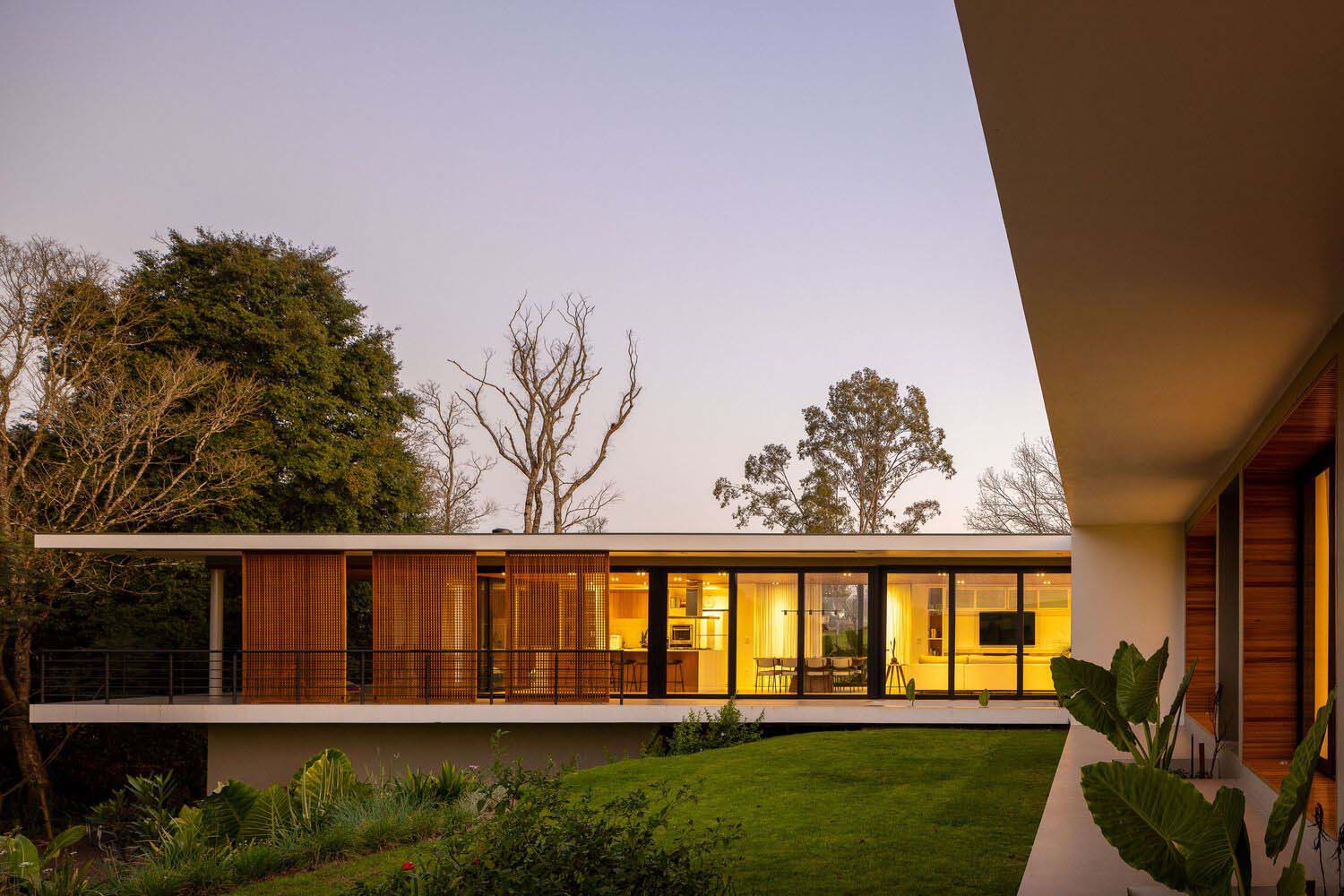 Above all, the Cruzaltense Residence strives to infuse the family's daily life with a sense of lightness, where well-thought-out flows and elegant simplicity coexist harmoniously with the vast outdoor spaces. Clean lines define the essence of this project, allowing the natural beauty of the environment to take center stage and fostering a distraction-free daily experience for its inhabitants.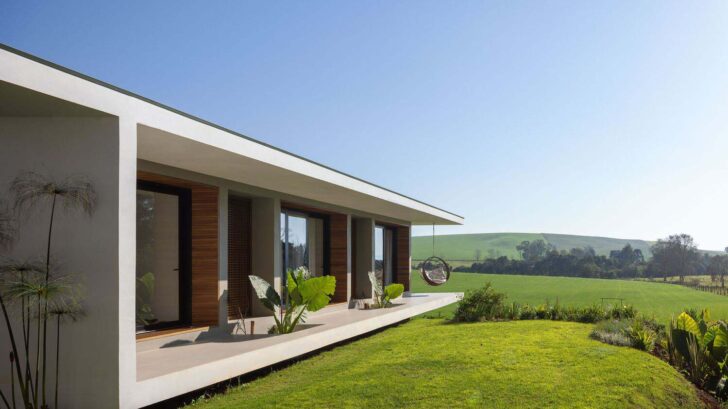 Project information
Architects: VOO® Arquitetura e Engenharia – www.voo.arq.br
Area: 51234 ft²
Year: 2023
Photographs: Alcindo Dedavid
Manufacturers: GRAPHISOFT, Esquadrias Boa Vista, Gran Bell Mármores, JC Materiais Elétricos, Lemke Restaurações Prediais, Marciano Vidros, Roca Design
Architectural Project Creation: Jonatan Welter, Mairo Volkmann
Execution And Construction Management: Diego Rodrigues Borges
Architecture Project: Julian Fonseca Dei Ricardi, Cecília Knaesel, Fernanda Petri, Agatha Savignano, Heloisa Bisewski, Bruno Vitorino, Rafael A. Szychowski, Aline Denise Bernardo, Andressa Flach Fuhr, Paulo Moser, Julia Papst, Gabriela Sutter Warmiling, Gustavo Starke, Isaac Mayorga, Junia Costa Raulino, Laura Grimberg de Souza Chaveca, Maria Vitoria Cavalotti Kultchek, Pamela Panozzo
Interior Design: VOO
Structural Design: Brandes Engenharia
Electrical Project: InfraBlu – Ivan
Hydrosanitary Project: InfraBlu – Ivan
Civil Works: JMB Construções
Electrical And Hydraulic Installations: S.A. Soluções
City: Cruzaltense
Country: Brazil