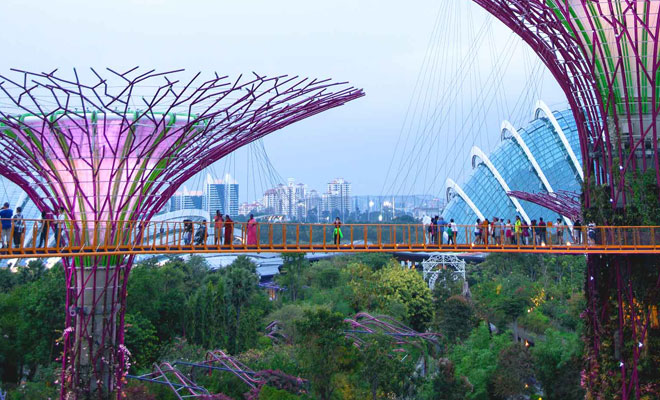 There are so many stunning architectural masterpieces around the world, and you don't have to be an architect to appreciate the beauty they all hold. We have searched for the best and compiled together a list of 5 of our favourites around the world.
We'll be taking a look at; the famous Cube Houses of the Netherlands, the Gardens by the Bay in Singapore, the Burj Khalifa standing in Dubai, Bangkok's Grand Palace and the Roman Catholic cathedral Sagrada Familia.
Read more after the jump:

Kubuswoningen
Also known as the Cube Houses and designed by the architect Piet Blom, these strange real-life Tetris masterpieces are homed in the Netherlands, Rotterdam. Blom designed these weird houses with an abstract forest in mind and the intent to help Rotterdam town planners to fit housing above a public bridge. Well, he certainly achieved what he set out to do! The only problem with the 100 cubic meter cubes is that only a quarter of the indoor space can actually be used. You can probably guess why, by now – it's the 54.7-degree angle, of course.

Gardens by the Bay
The out-of-this-world Gardens by the Bay stands proud in Singapore. They cover a massive 101 hectares of land, making it an absolute monster forest and a grand eco-friendly beauty. Although it is man-made, this industrial forest is energy efficient and is covered head to toe in plants, trees and flowers. This place truly is an astonishing, architectural masterpiece.

Burj Khalifa
The Burj Khalifa was erected in 2004 and took 6 years to complete, finally being completed in 2010. It's the world's tallest building at 828.9m with 160 floors. It's at no surprise that this giraffe-like skyscraper has a futuristic feel to it, seen as Dubai (where it stands) is known for their love of modernist architecture.

Grand Palace,Bangkok
The Grand Palace homes Thailand's most sacred temple – the Temple of the Emerald Buddha. As you can imagine, there is a dress code for all visitors to respect the heart of Bangkok. The kings of Siam have called the Grand Palace home for over 100 years, and still do to this day.

Sagrada Familia
Designed by Antoni Gaudi, the Sagrada Familia has an extremely unique and intricate design that makes it unquestionably outstanding and awe-inspiring. It was designed with such detail that it still remains unfinished. To put this in perspective; the build started in 1882 and is estimated to be completed in 2026. However long it takes, there's no debate on the beauty of this Roman Catholic Cathedral.
Do you have an architectural dream you wish could be built in the real world?
If you're interested in architectural designs and are looking for a place to engineer your ideas, Newtecnic is a talented building engineering business, that put their all into each innovative project.
What's your favourite architectural masterpiece?
Don't forget to like and share our post with your architectural passionate friends. We would appreciate your feedback! We also hope this post has given you some inspiration to visit one of these stunning masterworks of human-designed genius.