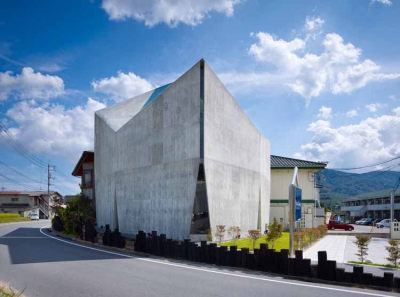 Project: Mecenat Art Museum
Designed by Naf Architect & Design
Design Team: Tetsuya Nakazono
Project Area: 99,55 sqm
Site Area: 344, 57 sqm
Total Floor Area: 191, 24 sqm
Location: Heroshima, Japan
Website: naf-aad.com
Naf Architect & Design creates the impressive Mecenat Art Museum for a location in Heroshima. Discover more of their solution after the jump:
From the Architects:
The works of Mr. Goami give striking image of various lights, thus, I decided to design the building focusing on natural light. Soft diffused light from top light, direct light pouring from top light through white cylinder for condensation of light spreading on the first floor, soft light from slits on the walls reflecting on the exterior green, fragments of graphical lights pouring through 432 plate glasses on the concrete walls; the space is filled with various kinds of lights. As an exhibition space, there was no need for structure such as columns and beams but as large wall as possible. The important factor of the museum was to incorporate natural light and wind, so corners are sliced with slits to the extent which would not interfere the exhibit. This idea would have left the building structurally fragile, so we studied a rational shape, which was structurally stable like folding one sheet of paper, origami, many time to make several corners, with models and three-dimensional structure analysis by computer.
The site is found in a calm and peaceful rural scene, where it became completely dark at night with no streetlights. This building is automatically lit up when it becomes dark, softly casting light to the surrounding. It became a landmark of the area.
I focused on taking in as much factors from natural environment as possible in the exhibition space. Artificial lights in the exhibition space are limited to the minimum. The works are basically viewed with natural light which changes throughout the year, giving different impression by the weather of the day and time of the year. The exhibition space is intentionally designed to be susceptible to the natural environment.
I would like the visitors to feel, with their entire bodies, through this building, atmosphere of profundity and gentleness created by the paintings of Mr. Kakudo Goami, which is based on noble spirit of Orient in the changes of four seasons unique in Japan.