JW Anderson Milano Store is finally here and it opens in via Sant'Andrea – this is JW's 2nd standalone store, but the first to open its doors in Italy. The opening extends the Italian story that began in June 2022, when JW Anderson began presenting menswear as part of the Milanese Fashion Week calendar.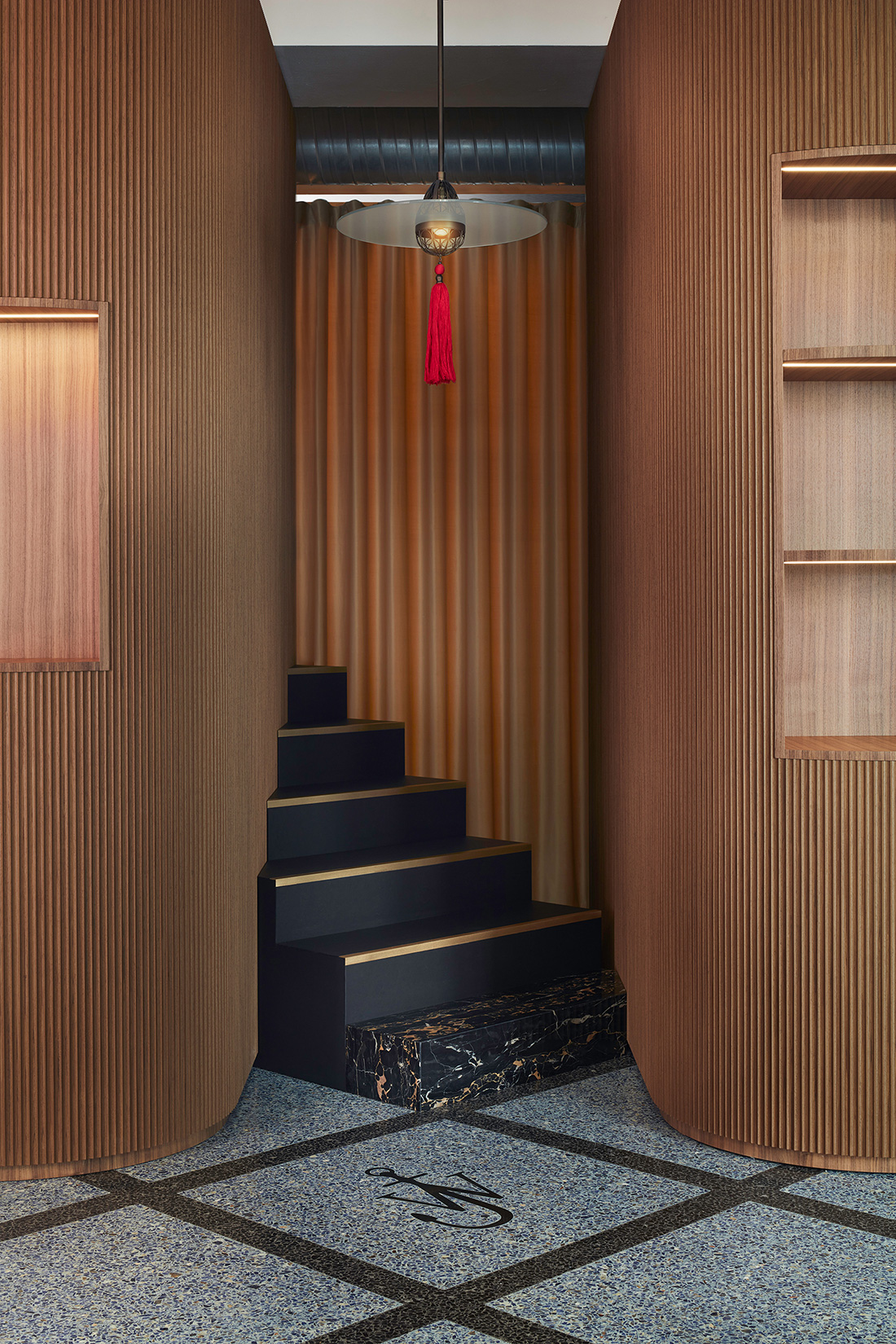 Located at number 16 of via Sant'Andrea, in the heart of the Quadrilatero, the city's preeminent shopping precinct, which is comprised between via Montenapoleone, via Manzoni, Via della Spiga, and Corso Venezia, the store extends on one single floor for a total of 53 square meters divided into two main rooms, with a full-height window on the street. 6a Architects are responsible for the interior design of the space; they were also in charge of the JW Anderson store that is located in London's Soho neighbourhood.
RELATED: Must See Fashion Store Interiors on ARCHISCENE
The JW Anderson language is expressed here with a Milanese accent and includes oblique references to the city's bourgeois tendencies, which are very apparent in the neighbourhood. Following that, the trademark aluminium scaffolding and display structures, in addition to the neon sign on the front of the JW Anderson Milano Store, are combined with genius loci components such as the traditional, handmade terrazzo tile flooring in a bespoke blend of hues, and Walnut fluted panels covering the two major pillars inside the building.
A Cardinal Hat Pendant lamp from Lutyens Furniture sets the tone in the main area, while Benchmark Studio's black Iklwa chair by Mac Collins and matching side tables reference to a Milanese salotto with their imposing presence. The furnishings at the JW Anderson Milano store are minimal, have an Italian vibe, and have a sense of humour. Two oil on canvas paintings by Hongyan, the artist, in mellow tones of green and grey, are hung on the walls, and they contribute to the impression of refined domesticity. The photographs by Wolfgang Tillmans displayed in the dressing area offer contrast and reaffirm the use of jarring juxtapositions as a defining characteristic of J.W. Anderson's work.
Discover the complete JW Anderson Milano store in our gallery: