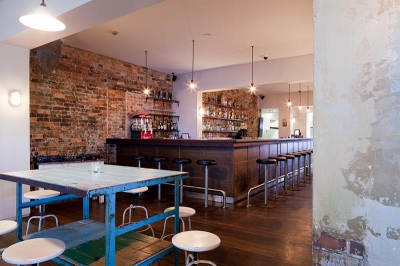 Project: Barrio Chino Restaurant
Designed by Edge Design Studio
Location: King Cross, Sydney, Australia
Website: mandyedge.com
Edge Design Studio has designed the Mexican restaurant in Kings Cross, Sydney named Barrio Chino. This exquisite restaurant spans on 350 square meters. For more images continue after the break:
From the Architects:
In 2011 Edge Design Studio completed the fitout for a new Mexican style restaurant on Bayswater Rd, Kings Cross called Barrio Chino.

The fitout consisted of the fit out of a 350 m2 space including bar, lounge, dining areas and terrace.

The design is raw and stripped back consisting of splashes of bright colours in distressed paint finishes on walls and in furniture being the only reference to the restaurant's Mexican cuisine.